SiteScope licensing is totally different from other software licenses. We take licenses of SiteScope based on points.SiteScope license offers flexibility by allowing you to purchase what you only need. There is no need to buy any extra or unnecessary licenses. This will definitely be cost effective for any company who wants to buy a SiteScope license. This software does not have user-based access licensing, which means an unlimited number of users can access the application. Purchasing of license and getting this license registered will give access to HP Self Solve and technical support of HP.
Point System:
SiteScope licensing is based on a point system. A permanent license is a number of points that you use to activate a different monitor type.
It mainly depends on these two factors:
Total number of monitor points you have purchased.
Different type of SiteScope monitors that you want to use
The number of license monitor points you want to purchase depends upon how you plan to deploy SiteScope, how many servers you want tomonitor, and what level of monitors you want monitor.
SiteScope monitor points are sold in sets of 50, 100, 500 and 2000 points. This has the flexibility of buying your licenses according to your requirement.
Some of the most important monitors that we consider for any system is:
Server Health Monitoring
CPU, Memory, Disk, Logs, etc. (Each monitor requires 1 point)
Web Process and Content Monitoring – Monitoring aweb-based application availability by performing a series of steps such login, doing a transaction, and logout.(Each step requires 1 point).
Application Performance Monitoring
Estimating the correct monitoring points for different application servers is always a typical part. It depends upon the number of application servers and type of application server deployed and the total number of metrics to be monitored.
Network Monitoring
Networking monitoring is one of the key metrics that we always prefer to monitor. Network monitoring involves both connectivity and availability of the network. This includes different monitoring services like DNS, DHCP, LDAP and Radius. You can also query different network performance metrics using SiteScope SNMP, depending upon the network infrastructure that we have setup.
The following are the number of points for each network monitoring.
One point for each network monitoring destination.
One point for each network service such as DNS, LDAP etc.
One point for each metric to be monitored over SNMP.
Solution Templates
Solution templates is a predefined group of monitors for a specific application server and operating system. Access to this templates require an option license. The advantage having option license it also comes with best practices documentation for the specific application or operating system. Using this documentation, you can easily configure the monitoring of the application. Here are the list of solution templates.
Weblogic Application Server
WebSphere Application Server
NodeJS Application Server
Oracle Database Server
Siebel app and gateway server
SAP Application Server
Microsoft Exchange and Active Directory
SiteScope License Installation
Once you get the license from HP Team, open the SiteScope in browser localhost:8080/SiteScope.
Select Preferences.
Select General Preferences.
Select Licenses
Select the license file or add the path of the license file.
Select Import.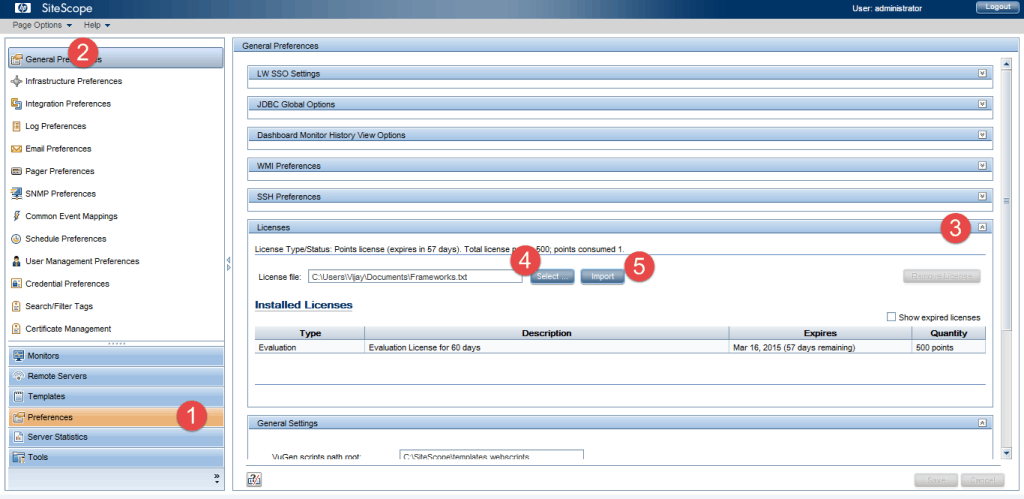 After licenses have been successfully imported, you will see the information about license type, description, expiration date, and the total number of monitor points.
Check Current License Usage
You can check the current license usage in the following log.
SiteScope Installation Directory\logs\monitorCount.log
Here is the example log for Sitescope license.